If / When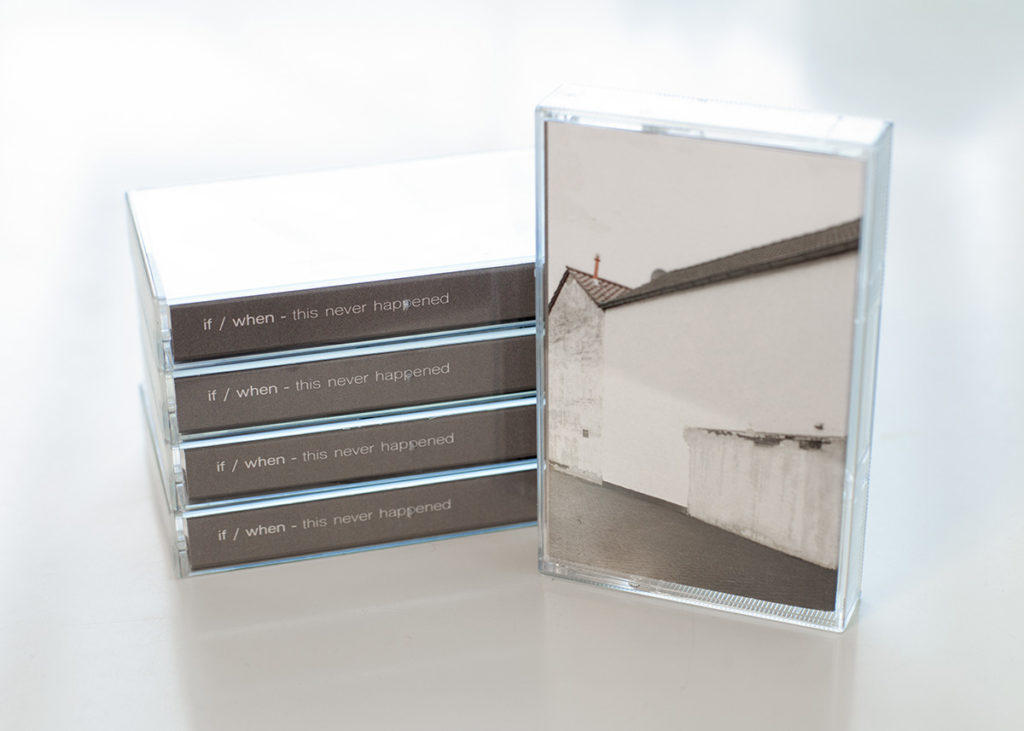 This Never Happened is the debut cassette by If / When, a solo project of Stuttgart, Germany-based musician and sound artist Chris Williams. Across six tracks spanning more than 57 minutes, this release brings field recordings, manipulated objects, and other found sounds into dialogue with instruments such as piano, guitar, and synthesizer. The results are both structured and aleatoric, filled with warm melodies, syncopated noises, and subtle shifts of phase, settling somewhere between collage and musical composition. In the end, snippets of sound recorded independently at many different times and locations find new expression through unexpected juxtapositions, providing a listening experience that is both inviting and rewards close attention. Listen on Bandcamp >
Details
a1. that place will never be the same
a2. they tried to run away
a3. how the voice falls
b1. wedding day
b2. captured in suspension
b3. she kept calm on the waves
total runtime: 57:30
Mastering by Roderik Vanderstraeten.
Duplication at Tapedub, Berlin.
Digital download and limited cassette edition of 50. Two-sided, full-color J-card plus one flap. This is Smooth Space Edition #1.
Ordering info
Please visit Bandcamp to download or purchase a cassette.
Cassette: 10 Euros plus shipping
Digital download: 7 Euros
If you are ordering other items in addition to a tape, it is recommended that you contact Smooth Space directly and list all items in one message. This will ensure the most efficient processing and shipping of your order.
Artist
Chris Williams (cwllms.net) was a founding member of The Glass Bees, a New York City-based project that between 2006 and 2013 developed and applied strategies for improvised sound-making, multimedia installation, and collaboration. Since relocating to Germany, he has presented multimedia and sound installations at Kunstraum 34 (Stuttgart), the generate!_lab Festival for Electronic Arts (Tübingen), and xCoAx — the Conference on Computation, Communication, Aesthetics & X (Milan).