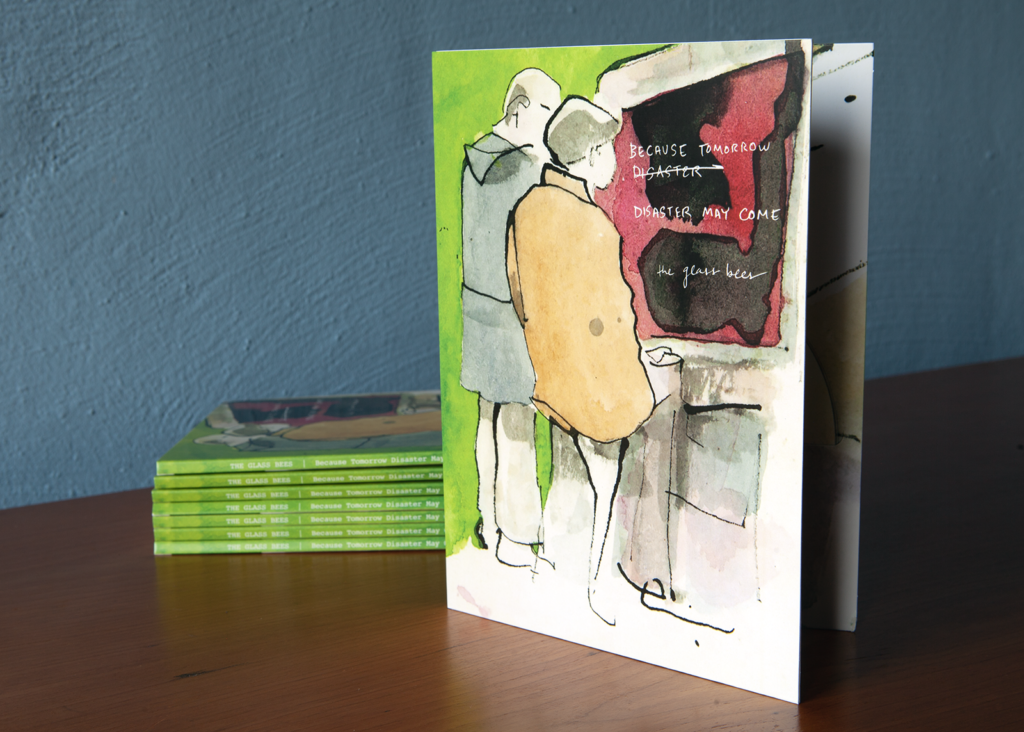 Active in New York City from 2005-2013, the Glass Bees began as a studio project to explore improvisation in music, evolving over time into a malleable platform for transmedia art, including installation, video, field recording, sculpture, drawing, photography, painting, text, performance, historical research, and psychogeographical exploration. "Because Tomorrow Disaster May Come" compiles some of the group's best late studio recordings, originally released one-by-one via a podcast on their website, glassbees.com. These tracks have now been remastered and sequenced in a format that provides a more accessible survey of the project's idiosyncratic methods and accomplishments.
In the studio, the Glass Bees used amplified, acoustic, and electronic instruments as sound sources in pursuit of a naive, non-idiomatic music that responded to self-imposed constraints and situations. Sounds heard in this collection were improvised with maximum spontaneity and captured in real time on a simple stereo digital recorder with no overdubs. The musical vocabulary that emerged shows awareness of genres such as ambient, noise, outsider rock, free jazz, field recording, and new music, but does not fit cleanly into any of those categories. The six tracks on this album achieve a wide range of subtle and restless atmospheres — sometimes melodic and gentle, at other times loud and grating — built on shimmering drones and loops, urban and environmental recordings, treble-kicking noise, found texts, and fortuitous accidents. Holding it all together is the instinctual struggle of three individuals determined to find a shared vision of what music could be.
Details
1. Eagle Rock
2. In Our Gardens There Is Light
3. Bird in a White Cube
4. Take Advantage of the Setting Sun
5. From Break of Dawn Til Creep of Night
6. Because Tomorrow Disaster May Come
Total runtime: 47:22
Limited edition of 50 CDs and digital download. The CD comes in a hand-numbered, DVD-sized cardboard digifile with an 8-page booklet containing archival artwork, photos, and liner notes by cultural entomologist Josiah Alabaster Kristiansen. This is Smooth Space Edition #3.
Credits
Tracks written, performed, and recorded by the Glass Bees: Jason Das, Chris Williams, Andrea Williams (tracks 2-5).
Sounds on this collection were originally released at glassbees.com, with the exception of "Bird in a White Cube," which was captured during a sound check at Envoy Enterprises in July 2009 and appears here for the first time.
Ordering info
Visit Bandcamp to purchase a CD.
CD: 15 Euros plus shipping
Digital download: 8 Euros
If you are ordering other Smooth Space Editions in addition to this CD, it is recommended that you contact Smooth Space directly and list all items in one message. This will ensure the most efficient processing and shipping of your order.